Here's the latest update: The Whale is now on a 2-day winning streak where he has taken a starting amount of $4,000 and turned it into $40,268.85!
On Monday, The Whale hits on one Round Robin ticket, turning $4,000 into $18,897.75:
Then yesterday on Tuesday, The Whale used the $18,897.75 that he had on his hands from winning the Round Robin ticket on Monday to bet it all on the games.
Yesterday, The Whale wagered $18,600 on his picks (this $18K came from winning the $4,000 Round Robin ticket on Monday), and ended up cashing out $40,371.10: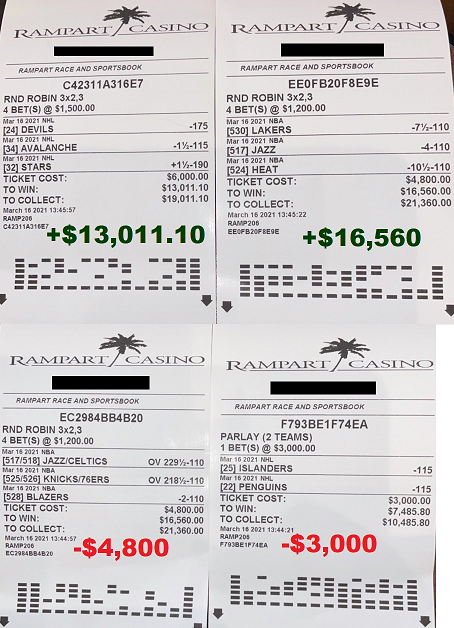 The Whale ended up winning 2 out of his 4 Round Robin betting tickets yesterday and successfully turned his $18K into more than $40,000!
2 days ago, The Whale started with $4,000.
As of today, The Whale has turned his original $4,000 into $40,268.85!
How's THAT for a return on investment?
Is The Whale done? Not a chance! Today, he's going all-in ?
The Whale is planning on betting around $30,000 on his picks today. If all goes well, you could see The Whale take the initial $4,000 in cash that he had on his hands 2 days ago, and successfully turns that into $100,000 by TONIGHT!
If The Whale gets paid out $100,000 by tonight, then how would you feel if you only sit back to watch it as it happens instead of sharing into the success?
Want today's picks? Join The Whale's Action! membership now, and I'll continue sharing with you the uncensored version of ALL of The Whale's betting tickets every day