Hi! It's the Sports Betting Whale here and I just want to update you on my 10-day winning streak where I started with just $3,980 on day 1, and ended up walking away with $94,778.53 in my pockets on day #10!
Yes, my winning streak extended to 10 days for more than $90,000 in profits! That's 24 times my original starting amount!
In these last 10 days, my win-loss record of all picks are 101-57. Note that this record includes parlays and robin robin picks as well which of course are expected to win far less.
On the straight picks, I went 70-28 for a win rate of more than 70%
I went 24-20 on the 2-team parlays which are normally expected to win by chance only 25% of the time
I went 26-6 on my 32 platinum picks for an 81.25% win rate. These were my strongest daily selections
7 out my 20 Round Robins have won 3 out of 3. That was responsible for ballooning my bankroll from a small amount to almost $100,000
I myself took less than $4,000 and turned it into almost $100,000. Here, check it out for yourself:
Back on Thursday August 5th, I started with less than $4,000 on my hands. I quickly turned that into $14,718.65. That started Day #1 of my winning streak.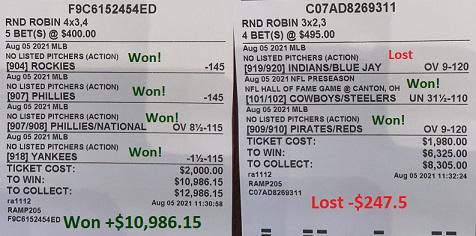 On Friday, I won another $7,637.64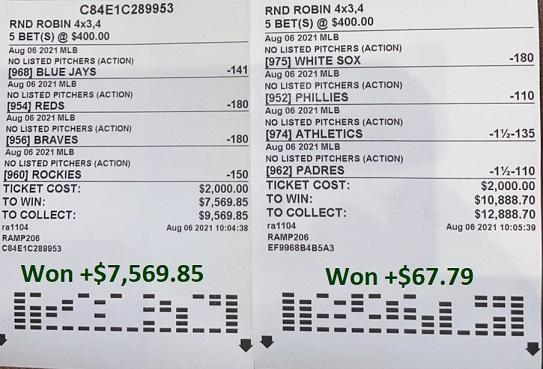 On Saturday, I won another $7,195.50. At this point, my winning streak has broken past $25,000 – all starting off with just $4,000 as my original bankroll.

On Sunday, I won another $5,722.30


On Monday, I won another $8,789.47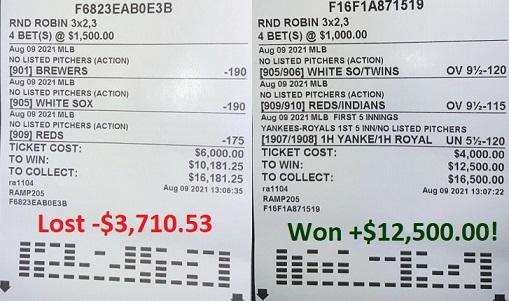 On Tuesday, I won another $4,594.04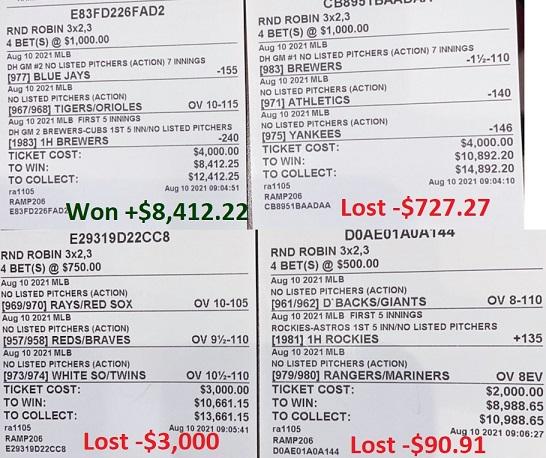 On Wednesday, I won another $5,335.38. My winning streak was now officially over $50,000 at this point. Halfway to 100 grand.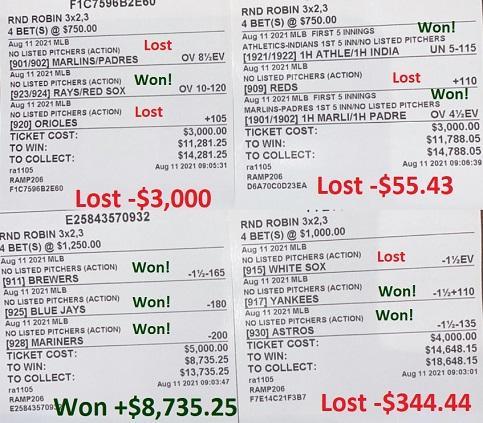 The next day on Thursday was my only losing day, where I came out down a small amount of just $2,118.13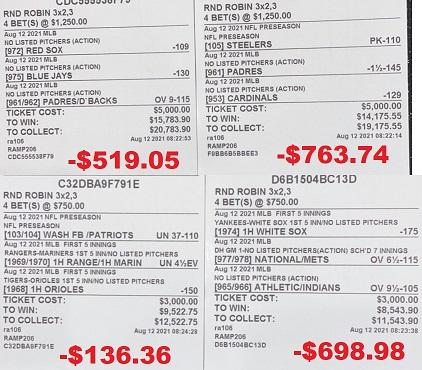 I bounced right back up the next day on Friday, where I wagered $9,320 and ended up cashing out $31,433.33 for a net profit of $22,113.33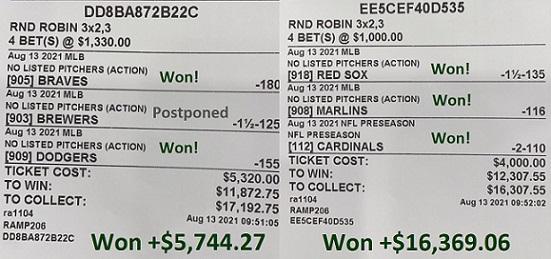 Then on winning streak Day #10 the next day on Saturday, I wagered $20,000 and cashed out $38,672.22 for another $18,672.22 in net winnings.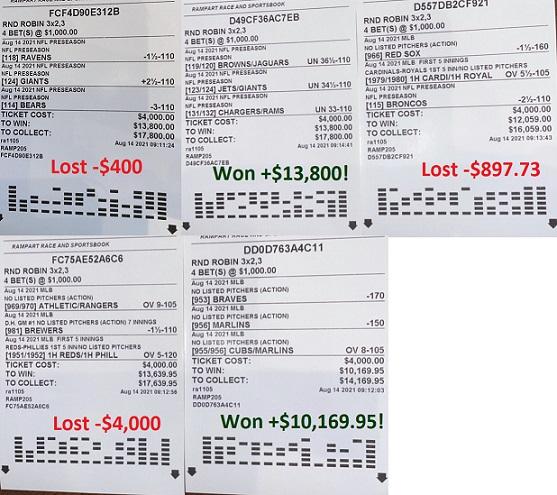 So just do the math: In a span of just 10 days, I took $3,980 and successfully turned it into $94,778.53 for a net profit of more than $90,000!
How does taking $3,980 and turning it into almost $100,000 in just 10 days sound to you? It's all possible and you've just seen it happened with your own eyes. Seeing is believing!
Best of all – My 10-day winning streak of nearly $100,000 was shared by all members of our World's First 100% Free Handicapping Service!
In this free program, I will get you all of my picks for free. Make your bets. Win some money and when you do, just send us a tip from your profits!
Join our World's First 100% Free Sports Handicapping Service now by going to: ExpertFreePicks.com
Put in your info here and you'll start getting the same picks that I bet on every day – all for free!
All we ask is that you voluntarily tip us if you end up winning.
I highly encourage you to join our Win Now Tip Later program today to keep it going for free for everyone! Remember that we're putting a ton of time and resources into coming up with these selections for you daily. And unlike other services, we do not charge you anything upfront for these picks. We just ask that you voluntarily send a tip if you're winning.
Join now for free at: ExpertFreePicks.com